The Other Side of the Sea is a contemporary piece for solo performer that uses music, poetry, and projection to explore the relationship between language, memory, and identity. The sea provides a central motif through which to consider the way the mind retains fragments of text, image, and sound at different levels of consciousness. The project began its development in residency at Aldeburgh Music last summer, where Héloïse, Jessie, and Octavia took the Suffolk coast and Snape Maltings as inspiration for setting musical, visual, and textual elements. The three parts evolved simultaneously throughout a profoundly collaborative process.
Inspired by Héloïse's experience of adopting English as a second language, The Other Side of the Sea seeks to articulate the tension of an identity split linguistically, in this case between French and English. It explores the spaces between person/performer and mother tongue/second language, drawing parallels between Héloïse's identity as a performer, the operatic tradition, and the performed identity of a life lived in a foreign tongue.
With Emily's direction, the piece evolved to make dynamic the relationship between writer and performer by dramatizing their shared process, which is another kind of translation. The libretto is interrupted by a series of texts which recur and evolve: recorded conversations, Jacques Prévert's poem Le cancre (which French children are typically taught to recite in school), and a 'confessional' text in which Héloïse attempts to explain, using words replaced by a series of abstract sounds, the peculiar experience of adopting a new language and culture. Meanwhile, the projection incorporates footage filmed on the Suffolk and Kent coasts, and images from Héloïse's childhood. Projected onto a shell-like structure, Jessie's films identify a physical site for the mental and emotional experience of the piece as the coast of England, looking out to an imagined France.
Act One situates us on the stony shore at Aldeburgh beach, grounding us in a tangible place from which the piece can then move through a process of abstraction. Act Two confirms the mouth of the performer as a portal for the texts of others, and crescendos to a frenzy of frustration, which traces the motion to Act Three, which represents an eventual expression of an integrated self, aided by and discovered through the process of performance.
The Other Side of the Sea is generously supported by the Michael Cuddigan Trust.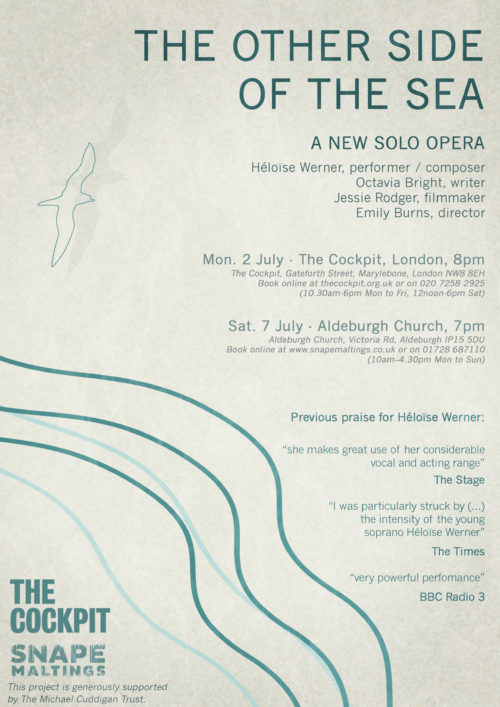 Monday 2nd July, The Cockpit London
Saturday 7th July, Aldeburgh Church
Performer & composer: Héloïse Werner
Writer: Octavia Bright
Director: Emily Burns
Projections: directed & shot by Jessie Rodger
Set: designed by Jessie Rodger & built by Brett Cox