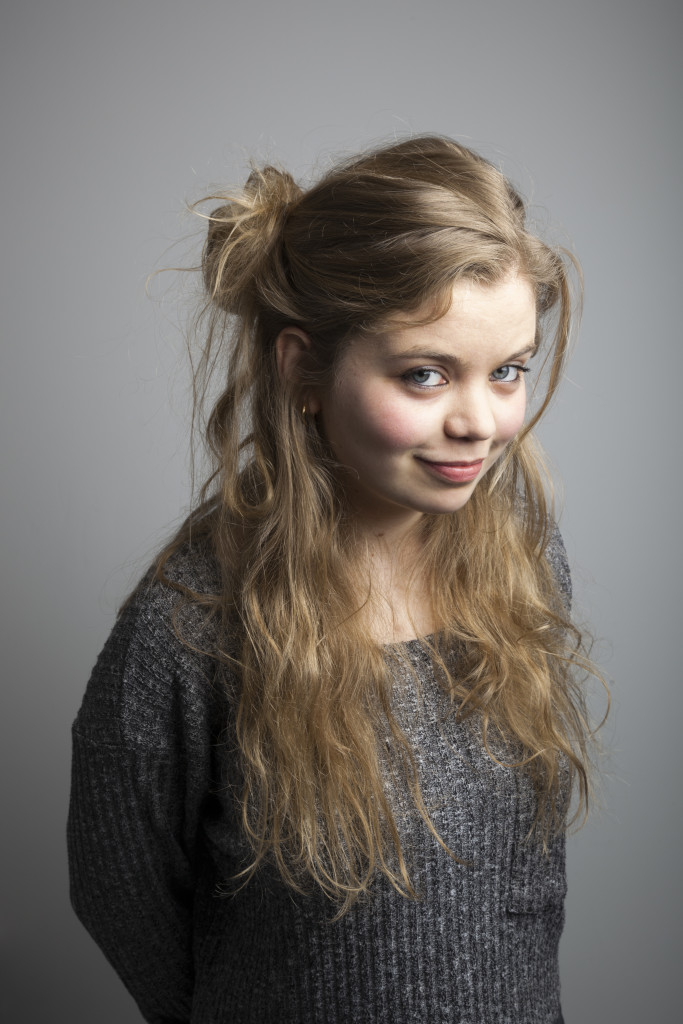 "sombre and powerful, it's a tour de force for its sole performer, the 25-year-old soprano Héloïse Werner, a rising figure on the contemporary music scene. (…) she makes great use of her considerable vocal and acting range" The Stage
"I was particularly struck by (…) the intensity of the young soprano Héloïse Werner" The Times 
"the excellent Héloïse Werner as Perdita" Evening Standard
"its exacting vocal lines were delivered with considerable intensity by soprano Héloïse Werner" The Guardian 
"projected with wry wit by soprano Héloïse Werner" Evening Standard
"wow (…) very powerful performance" Katie Derham, BBC Radio 3
"Werner's impassioned and masterful performance (…) superbly performed" The Upcoming
"soprano, Héloïse Werner really used the words performatively: not just their meaning but their sound. (…) Werner was called upon to imitate the train as well as sing: all carried off with a splendid sense of performance art." Seen and Heard International
Recipient of the Linda Hirst Contemporary Vocal Prize 2017, French-born and London-based soprano Héloïse Werner was one of the four shortlisted nominees in the Young Artist category of the prestigious Royal Philharmonic Society Music Awards 2017. The annual RPS Music Awards, presented in association with BBC Radio 3, are the highest recognition for live classical music in the UK.
Recently described by The Stage as "a rising figure on the contemporary music scene" and by The CUSP Magazine as "one of the most exciting young sopranos emerging in the industry", Héloïse is a soprano interested in music as drama and music for the stage, experimenting with different genres and techniques. She is also a keen cellist, composer and improviser.
As a soloist, she has performed at London's leading music venues including Royal Festival Hall, Wigmore Hall, Kings Place, St John's Smith Square, Wilton's Music Hall, LSO St Luke's, The Forge, Blackheath Halls and Union Chapel, and been broadcast on BBC Radio 2, BBC Radio 3, Classic FM, Resonance FM and London Live. She also appeared at the 2016 BBC Proms as one of the two singers performing in Steve Reich's Music for large ensemble with the Multi-Story Orchestra in Peckham's car park.
Héloïse starred in Jonathan Woolgar's acclaimed one-woman opera Scenes from the End at London's Tristan Bates Theatre, following on from successful runs at the Camden and Edinburgh Fringe Festivals 2016  (★★★★ review from The Stage here). She performed an extract from the opera live on BBC Radio 3 and the show was featured in the Evening Standard "Arts picks of the week" and "The ten hottest tickets in town".  She has been awarded a residency at Snape Maltings (July 2017) to develop her next solo show, a new one-woman opera about language, memory and identity, which she is writing with writer Octavia Bright & filmmaker Jessie Rodger. Performances are planned for summer 2018.
Héloïse is soprano and co-director for award-wining contemporary quartet The Hermes Experiment (clarinet, soprano voice, harp and double bass), winners of the Tunnell Trust Awards 2016, Park Lane Group Young Artists 2015-16, UK Young Artists 2014 and winners of Nonclassical's Battle of the Bands 2014. The ensemble regularly commissions new works (over 40 so far) as well as creating their own innovative arrangements and venturing into live free improvisation. The group also strives to create a platform for cross-disciplinary collaboration: they recently created a 'musical exhibition' with photographer Thurstan Redding and  a new interpretation of Shakespeare's The Winter's Tale which they developed during an Aldeburgh Music Residency. Recent praise for the quartet include: "The performance was meticulously nuanced, witty and chic." ★★★★ The Times // "This clever mix of instruments is more versatile than you might first think" ★★★★ The Observer // "The combination of harp, clarinet, voice and double bass is not one you hear every day, but in the right hands it works brilliantly. The Hermes Experiment who sport this line-up have in a short few years commissioned prodigiously for it, opening a whole new expressive world" Evening Standard. The Hermes Experiment receive support from Arts Council England, the RVW Trust, Britten-Pears Foundation, Hinrichsen Foundation, Nicholas Boas Charitable Trust, Future of Russia Foundation and Oleg Prokofiev Foundation. 

Aside from Scenes from the End, other recent operatic roles have included: Doctor in Maxwell Davies' Kommilitonen! (Welsh National Youth Opera), Anya in Mannequin, a new one-woman video opera by Maria Vatenina (Tête à Tête Festival Opera), The Vixen in Janacek's The Cunning Little Vixen (CUOS) and Love in Gluck's Orfeo (CCMS). She is also involved in the development of a new punk opera The Crocodile of Old Kang Pow by Darren Berry (from Penguin Cafe) due to open next year.
Héloïse is a founding member (vocals/cello) of five-piece folk band The Coach House Company. In recent years, the band has performed at the National Portrait Gallery, Cecil Sharp House, Green Note in Camden, Ronnie Scott's jazz club, London Folk Festival, Wilderness Festival, and has released two original EP discs: The Coach House Company (2014) and Maiden Tales (2016). She is also a founding member of new vocal ensemble SHARDS, who recently performed as part of Nils Frahm's weekend festival 'Possibly Colliding' at the Barbican. Héloïse regularly plays with various other bands including The Amazing Devil (cello/vocals). As an ensemble singer, she regularly performs with choirs such as Polyphony and Philharmonia Voices.
She is also currently writing music with film composer David Julyan, working towards the release of a first EP in 2018. The project was launched at the Union Chapel in 2017.
Héloïse was born in Paris and was a member of the 'Maîtrise de Radio France' for six years. At the same time, she studied the cello at the Conservatoire Maurice Ravel with Valérie Aimard. She then read music at Clare College, Cambridge, where she was also a choral scholar under Graham Ross. At Cambridge, she studied composition with Giles Swayne and won the 2011 Clare College Carol Competition. In 2009, she was awarded the 'Creation Prize' from the Conservatoire Maurice Ravel for her songs for piano and voice, which she performed as part of her cello final diploma. She is currently completing her vocal studies with Alison Wells and coach Anna Tilbrook on the MMus course at Trinity Laban Conservatoire of Music and Dance as a Linda Pilgrim Charitable Trust Scholar, where she was recently a finalist in both the Soloists' & Roy Pleasance Competitions. She is also a Help Musicians UK Postgraduate Award holder.
For more details on current / past projects, click here. For more press quotes, click here.